Politics / Imran Khan's government collapses in the middle of the night in Pakistan, 174 votes against Imran in no-confidence motion
There has been a major upheaval in Pakistan's politics. In the middle of the night, Imran Khan's government collapsed. The no-confidence motion received 174 votes against Imran. The new Prime Minister of Pakistan will be Shahbaz Sharif. The Bar Association of Pakistan has said that the government has contempt of court and the Supreme Court in the National Assembly.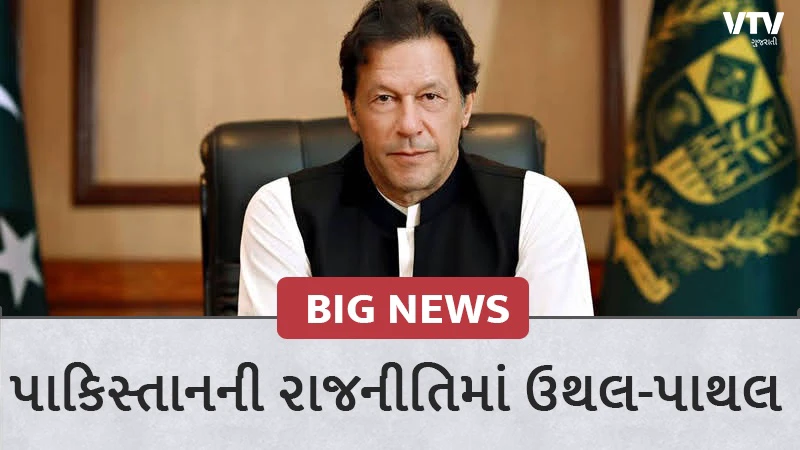 A prisoner van was called outside the National Assembly
Prisoner Van has been summoned outside the National Assembly of Pakistan. Meanwhile, Pakistan's Prime Minister Imran Khan has said that people should give me the strength to fight the mafia.
In Lahore, Imran's supporters have taken to the streets
In Pakistan, Imran Khan's supporters have taken to the streets in Lahore. Let me tell you that Imran Khan has once again said that he will not resign.
Pakistan's Chief Justice arrives at the Supreme Court
Pakistan's Supreme Court has been unlocked. According to reports, 4 more judges besides the Chief Justice of Pakistan have reached the Supreme Court. Roads in Islamabad have been sealed off in view of the situation.
Imran Khan arrived in the National Assembly of Pakistan
Pakistan's Prime Minister Imran Khan has reached the National Assembly. According to sources, a decision has been taken in the Imran Khan cabinet meeting that he will not resign. Meanwhile, there are reports that the speaker has agreed to vote. It is being said that if the voting does not take place, the Supreme Court may take contempt action against the Speaker.
Deployed security outside Pakistan National Assembly
Security was beefed up outside the Pakistan National Assembly in Islamabad ahead of the vote on a no-confidence motion against Prime Minister Imran Khan.
Shahbaz Sharif likely to be the next Prime Minister
Shahbaz Sharif, who is most likely to become the next Prime Minister of Pakistan. He is little known outside his own country, but his reputation as an influential administrator as a politician is very high at the local level. The 70-year-old Shahbaz, younger brother of three-time Prime Minister Nawaz Sharif, is leading the opposition in overthrowing Imran Khan's government and a no-confidence motion was to be tabled on Saturday, where he would widely replace Imran Khan as prime minister. Experts say Shahbaz has better relations with Pakistan's military than Nawaz, who traditionally controls the foreign and defense policy of 220 million people in a nuclear-armed nation.
Who is Shahbaz Sharif?
Pakistan's generals have three times directly intervened in overthrowing civilian governments, and no prime minister of Pakistan since 1947 has been able to complete his five-year term. Shahbaz Sharif, who is part of the Amir Sharif dynasty, has become the Prime Minister today. Shahbaz is very famous for his work style. Which was seen by the people of the country living as the Chief Minister of Punjab Province. Shahbaz Sharif is considered very close to China. That being said, Shahbaz Sharif could give the green light to the CPEC project again. Which was stopped by Imran Khan and turned against China. Shahbad Sharif will also try to have good relations with America and his elder brother Nawaz Sharif will help him in this work.
Imran Khan called India an independent country, became emotional
In his address, Imran Khan said that Hindustan and Pakistan were liberated together. Got a lot of respect and love there. It is an independent country. No superpower country has the guts to do anything there. I am not against Hindustan, relations have deteriorated because of Kashmir and RSS. India's foreign policy is independent.